Star Wars Stormtrooper Costume Armor with Accessories and Ready to Wear - Original Replica - A New Hope - STANDARD SIZE
---
---
IN STOCK NOW
---
Product code: JR 1394 - STD
ADD TO CART
Product Details
PLEASE NOTE THIS PRODUCT TAKES 14 DAYS TO PREPARE
Additional Product Information
---
COMPLETE STORMTROOPER COSTUME ARMOR PACKAGE
STANDARD SIZE ARMOR


---
COMPLETE STORMTROOPER ARMOR PACKAGE
PLEASE NOTE: All Stormtrooper Costume Armor Ready to Wear is produced and assembled in London, UK. Your package will be shipped by international courier.
We are proud to present to you the Replica Star Wars Stormtrooper Full Costume Armor Package.
The Stormtrooper Armor is made from high-quality 2.5mm white plastic. It has been trimmed with clean edges, no sharp corners, and has been professionally strapped with industrial strength Velcro by our team at The Stormtrooper Shop.
Our Stormtrooper Armor does NOT require polishing creams, glue guns or any DIY products and is NOT a 'Kit'. All of the work from preparation through to completion has been done for you. All you do is put the costume on, it really is that easy.
The Stormtrooper Helmet is supplied fully assembled and complete with an adjustable head brace.
We also include all the accessories required including Blaster, Holster, Bodysuit, Neckseal, Balaclava, Gloves and Boots.
Many members of costuming groups worldwide have purchased this armor which is something that we are very proud of.
This fully prepared Stormtrooper costume has been made in the UK with love, experience and the best materials.
You can purchase our products knowing we are here to assist you with a full-time backup service, online replacement armor parts service and customer product advice.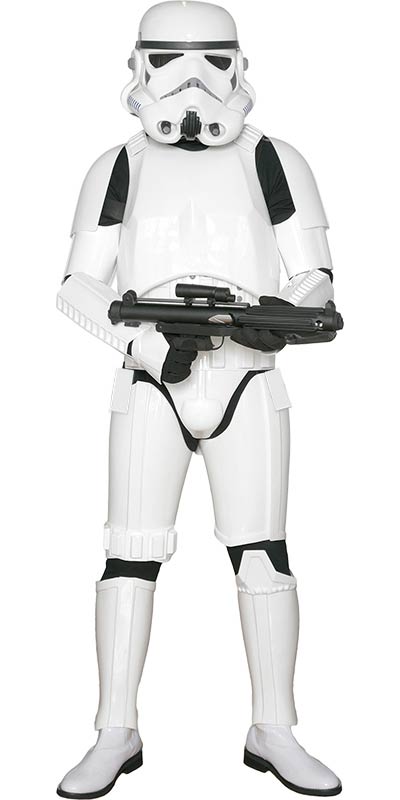 ---
WHAT YOU WILL RECEIVE
All Armor Parts - Strapped and ready-to-wear
Helmet - Fully assembled, including adjustable headbrace and flat grey lenses
Bodysuit - Black all-in-one thermal undersuit with double zipper
Balaclava - Soft black cotton
Neckseal - Ribbed collar with cotton apron and Velcro closure
Gloves - Soft cotton, specially prepared with Velcro for your hand armor plates
Boots - White ankle boots
Holster - Designed for your E-11 blaster
Blaster - Replica E-11 blaster prop
Package Checklist
Suiting Up Instructions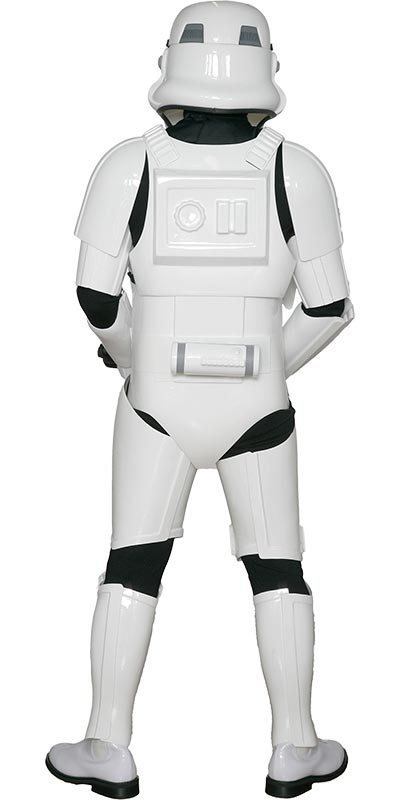 STORMTROOPER SIZE GUIDE - STANDARD SIZE
If you are smaller than the sizes shown click for
[REDUCED SIZE ARMOR]
If you are larger than the sizes shown click for
[XL EXTENDED SIZE ARMOR]
Our Stormtrooper Costume can be completely adjusted to fit a wide range of body sizes and shapes to ensure it fits you perfectly using the velcroed straps provided.
Many of the accessories included in this package are supplied in your chosen sizes including Neck Seal, Bodysuit and Boots, we will contact you to confirm these sizes.
| | | |
| --- | --- | --- |
| STANDARD SIZE ARMOR | inches | cm |
| Height | 5'8" to 6'4" | 173cm to 193cm |
| Chest | 28-56" | 71-142cm |
| Waist | 30-52" | 76-132cm |
| Inside Leg | 28" or more | 71cm or more |
| Inside Arm | 17" or more | 43cm or more |
| Thigh Girth | up to 24" | up to 61cm |
| Calf Girth | up to 16" | up to 41cm |
| Neck | 18-20" | 46-51cm |
Save
Related Products:
---
---