Stormtrooper Neck Seal - Best on the Web
---
---
IN STOCK NOW
---
Product code: JRA 2564
ADD TO CART
Product Details
Stormtrooper Neck Seal
Every Stormtrooper Costume requires a Neck Seal to cover up your exposed skin.
Exclusive to StormtrooperStore.com, we present the best neck seal available.
Beautifully hand made with fantastic materials. Made from a very soft cotton and the outer area is covered in faux leather. The Stormtrooper Neck Seal is fastened with hook and loop strapping.
Stormtrooper Neck Seals are available in medium and large.
Medium fits up to a 16" (40cm) neck
Large fits up to an 18" (46cm) neck
The Stormtrooper Store says: We know every Neck Seal available on the market. We honestly believe this is the best Stormtrooper Neck Seal available anywhere.
Related Products:
---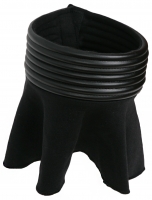 ---