Custom Painted and Weathered Replica Clone Trooper Blaster DC-15S - Fantastic Example
---
---
IN STOCK NOW - QUICK DELIVERY - EASY RETURNS
---
Product code: JRA 3540
ADD TO CART
Product Details
Custom Painted and Weathered Replica Clone Trooper Blaster DC-15S - Fantastic Example
These beautiful blasters are custom painted and hand-weathered exclusively for the Stormtrooper Store, making every blaster a little unique.
This blaster began as an original Lucasflm Toy Blaster, which has been sprayed with a number of coats, then weathered and sealed to give an authentic look.
Batteries are required to operate the blaster sound.
This Clone Trooper Blaster is a modified toy, available to be used with a Clone Trooper Costume or for display purposes; we do not recommend you purhase this for a young child.
(Requires 2 x AA batteries - not included)
Related Products: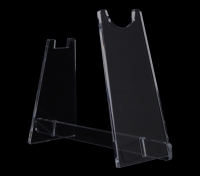 Star Wars Blaster Stand
Star Wars Blaster Stand Now you can display your Replica prop on this very well crafted acrylic stand. Great quality and a great price. Suitable for Stormtrooper E-11, Han Solo DL-44 ...
---