Star Wars Stormtrooper Costume Armour Kit Version 2 - with Helmet
---
---
IN STOCK NOW - QUICK DELIVERY - EASY RETURNS
---
Product code: JRA 3073
ADD TO CART
Product Details
STORMTROOPER ARMOR KIT 2
WITH HELMET
SPECIAL PACKAGE INCLUDES:
FULLY ASSEMBLED HELMET
ALL ARMOR PARTS
VELCRO STRAPPING KIT
STRAPPING INSTRUCTIONS
---
10th Anniversary Armor takes up to 30 days to prepare.
We are proud to present to you a Kit version of our replica Star Wars Stormtrooper Armor at The Stormtrooper Store.
PLEASE NOTE: All Stormtrooper Armor Kits are produced in London, UK. Your package will be shipped by international courier.
The Stormtrooper Armor Kit is made from high quality 2.5mm thick white plastic. It has been trimmed with clean edges, has no sharp corners and is supplied with our Professional Armor Strapping Kit 1 and a full strapping instruction guide.
Our Stormtrooper Helmet is provided fully assembled, with internal head support foam for added comfort and flat grey lenses.
---
WHAT YOU WILL RECEIVE
Fully Assembled Stormtrooper Helmet with internal head support foam

Velcro Strapping Kit

Full Strapping Instruction Guide to build your own Armor

Stormtrooper Armor Parts:
TORSO
Upper Chest

Upper Rear Back with OII detail

Abdominal Plate with Buttons, Pre-built with Canvas Belt and Ammo Belt

Lower Rear Back

2 x Drop Boxes

Thermal Detonator Canister
ARMS
2 x Shoulder Straps

2 x Shoulder Bells

Biceps - Left/Right Inner/Outer

Forearms - Left/Right Inner/Outer

2 x Hand Plates Left/Right
LEGS
Thighs - Left/Right Inner/Outer

Calves - Left/Right Inner/Outer

Right Thigh Ammo Pack

Left Knee Sniper Plate
---
STORMTROOPER ARMOR SIZE GUIDE
INCHES
| | | | | | |
| --- | --- | --- | --- | --- | --- |
| Size | Height | Inside Leg | Inside Arm | Thigh Girth | Calf Girth |
| Reduced | 63-68 | 26 or less | 17 or less | 24 or less | 16 or less |
| Standard | 68-76 | 28 or less | 17 or less | 24.5 or less | 16 or less |
| Extended | 68-76 | 28 or more | 17 or more | 25 or less | 17.5 or less |
CENTIMETERS
| | | | | | |
| --- | --- | --- | --- | --- | --- |
| Size | Height | Inside Leg | Inside Arm | Thigh Girth | Calf Girth |
| Reduced | 160-173 | 65 or less | 42 or less | 61 or less | 40 or less |
| Standard | 173-198 | 70 or less | 42 or less | 62 or less | 40 or less |
| Extended | 173-198 | 70 or more | 42 or more | 63.5 or less | 43.5 or less |
Related Products: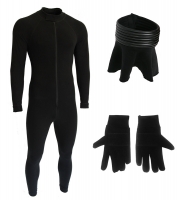 ---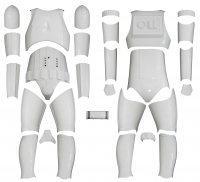 ---