Stormtrooper Bodysuit in Black
---
---
NUMBER ONE SUPPLIER OF STORMTROOPER ARMOR
---
Product code: JR 2530
ADD TO CART
Product Details
Stormtrooper Bodysuit in Black
Ensuring you have the right Stormtrooper Bodysuit is as important as your armor.
The Stormtrooper Store Bodysuits fabric reacts to all kinds of different conditions, from excessive heat to extreme cold. In warm weather, perspiration is removed from the skin surface keeping the wearer cool, in cold conditions the natural thermal properties of the fabric allow heat to be retained.
The Bodysuit is lightweight, durable and very comfortable, with double-zip for toilet access.
Washing Instructions: Cool wash with mild detergent, air dry, no heat.
Sizes Available:
This is a fitted, skintight bodysuit. You may prefer to go a size larger than expected.
Size
Max. Chest Size
Max. Height
inches
cm
feet/inches
cm
MEDIUM
36"
90cm
5'5"
165cm
LARGE
38"
96cm
5'8"
172cm
XL
42"
106cm
5'10"
177cm
XXL
46"
116cm
6'2"
187cm
Related Products: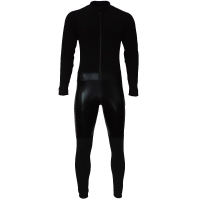 ---