Star Wars Stormtrooper Costume Armor Complete Package - Ready to Wear - STANDARD SIZE
---
---
NUMBER ONE SUPPLIER OF STORMTROOPER ARMOR
---
Product code: JR 1394 - STD
ADD TO CART
Product Details
STAR WARS STORMTROOPER COSTUME ARMOR
COMPLETE PACKAGE READY TO WEAR
STANDARD SIZE ARMOR
---
---
Please Note Stormtrooper Armor takes one week to prepare.
We are very proud to present this complete Star Wars Stormtrooper Armor Costume Package in size Standard, undoubtedly one of the best available.

We include all the necessary accessories including: E11 Blaster, E11 Blaster Holster, Bodysuit, Neck Seal, Balaclava, Gloves, and White Ankle Boots.

Our Stormtrooper Costume package is ready-to-wear and is NOT a 'Kit' that needs to be assembled. Simply take it out the box and put it on. Instructions supplied.

Our Stormtrooper Armor is made from high-quality 2.5mm white polished plastic. It has been trimmed with clean edges, and has been professionally strapped with industrial strength Hook and Loop by our team at the Stormtrooper Store.

Our Stormtrooper Helmet is supplied fully assembled with dark grey lenses and is complete with internal head support foam for added comfort.

We are delighted that many members of costuming groups and individuals worldwide have purchased this excellent value Stormtrooper Armor Costume Package.
---
WHAT YOU WILL RECEIVE
All Armor Parts - Strapped and ready-to-wear.
Helmet - Fully assembled with flat grey lenses and internal head support foam.
Bodysuit - Black one-piece thermal bodysuit with double zipper
Balaclava - Soft black cotton
Neckseal - Ribbed collar with cotton apron and hook and loop closure
Gloves - Soft cotton with attached hook and loop for your hand armor plates
Boots - White ankle boots
Holster - Designed for your E-11 blaster
Blaster - Replica E-11 blaster prop
Package Checklist
Kitting Up Instructions
---
HOW ORDERING WORKS
We always advise our customers to take your time and browse through the different packages we supply.
You can contact us by telephone or email at anytime for advice or support. Once you have ordered your costume you will receive a confirmation email.
This is followed by a simple multiple choice email that allows you to submit all your sizes to us. Once we have your confirmed sizes our team will start the process of assembling your Costume.
We will keep you up to date throughout the process right up to your delivery day.
---
Related Products:
---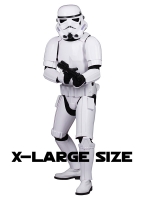 ---